DIRECTIONS
Unless otherwise specified, all Institute activities take place at Concord House, 1407 Chapala Street, Santa Barbara, California 93101. Click here for directions

Garden at Concord House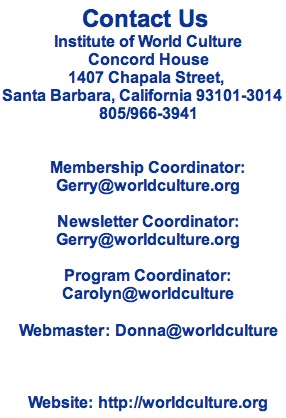 Join the Institute

Membership Information
Student Membership: $15 annually
Individual Membership: $35 annually
Supporting Membership: $70 annually
Sustaining Membership: $350 annually
Join the mailing list
Email memberships@worldculture.org
or contact us by mail or phone.
Support the Institute
All activities of the Institute are free of charge, unless otherwise indicated, and are open to all. The Institute brings wonderful speakers to share their knowledge and wisdom with Institute participants and it is supported primarily by donations from its members and friends. The Institute is run by volunteers, there are no paid employees.